I'm not blushing….my skin always looks pinkish and flushed.
One out of ten people have Rosacea. Rosacea is a chronic, relapsing condition, which mainly affects the face usually on the cheeks, nose, forehead and sometimes even the eyes. Rosacea can also affect the back of joints, neck, back and scalp. It is more common in women although it does affect men. It is more common in people with fair skin, but can also occur in people of Latin, Asian and African origin. Usually being diagnosed in the 30's to 50's.
It develops in stages, starting with flushing were the skin turns pink or red for short periods of time. Couperose, will appear as reddish or purple broken capillaries with a tight irritated feel. It progresses to burning, stinginging and itchy more permanent redness. It can progress to papules and pustules that look like acne. Telangiectasia, a chronic dilation of the capillaries and other small blood vessels clusters become visible. In extreme cases, if untreated can develop to Rhinophyma that appears as a large, red-colored, bulbous ruddy nose. Mostly affecting men and causing an increase in oil glands and thickening of the skin.
What causes rosacea?
The exact cause of rosacea is unknown, although a number of possible factors have been suggested, including abnormalities in the blood vessels of the face, a reaction to microscopic mites commonly found on the face, heredity, and dehydrated skin. Hormones can play a role in women with Rosacea. These shifts in female hormone levels caused by periods, birth control, pregnancy and menopause can cause flare ups. Emotional stress can also bring up a worsening of symptoms.
Is it Rosacea… seek professional treatment.
If you have the persistent symptoms of rosacea, seeking professional early treatment can help stop the condition getting worse and actually improve it. There is currently no specific test for rosacea, but your Doctor or Dermatologist can easily diagnosis the condition by examining your skin.
The symptoms of rosacea can be controlled to a certain degree with professional treatments. But it does not negate the stress that is often experienced by sufferers of Rosacea.  Changes to the physical appearance of the face that may occur as a result of the condition can often have a significant negative psychological, social and emotional impact. Rosacea can impact how you feel about yourself and how you interact with others
External and environmental factors although not thought to be direct causes of the condition, will worsen Rosacea. These include exposure to sunlight, extreme hot or cold weather, hot showers, strenuous exercise, alcohol, tobacco, caffeine, spicy foods, over the counter skin products and detergents with harsh soaps.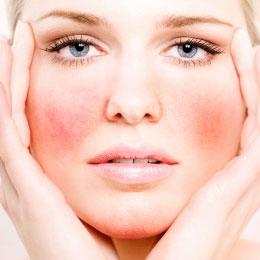 How to best treat Rosacea…ingredients to look for.
It's important to avoid know triggers as there is no cure for Rosacea. Professional treatment and products can help control the symptoms. Treatment is a permanent on going necessity to prevent Rosacea from advancing in stages.  Rosacea must be treated as super sensitive skin.  Facial cleansers must be extra gentle and not contain harsh ablative exfoliating scrubs. Astringents if used at all should be limited to witch hazel to alleviate congestion. A good ingredient to look for is mandelic acid, made from almonds, it is both anti-bacterial and anti-inflammatory while strengthening the skin. Other good ingredients to use with Rosacea are aloe vera, calendula, chamomile, wheat germ, ginkgo and vitamins C and E.
When doing facials on Rosacea skin I've found the Image Skincare Vital C line to be very effective. These products include a gentle cleanser and a hydrating serum that incorporates the new technology of oil-soluble Vitamin C with the highest bio-availability to immediately soothe the visible effects of environmentally damaged skin. Vitamins A, E and highly potent anti-oxidants will nourish the skin to create a healthy, youthful glow.  I've also had success with PCA Skin's Sensi Peel along with their Anti-Redness Serum, Apres Soothing Balm and Calming Balm filled with anti-oxidants and soothing botanicals. Oils are to be avoided with Rosacea and replaced by the UR-Beauty Hyaluronic Serum to prevent dehydration and help skin adapt to changes in climate.  Also Image Skincare's I-Conceal, the all-in-one illuminating, lightweight and water-resistant foundation that heals and conceals to reveal a healthier, flawless complexion every day. Designed to hide imperfections, as it heals with oxygenating and botanical ingredients.
Sun protection is a must. Over the counter sun blocks full of heavy oils or the excessive ingredients should be avoided only sun blocks made with natural zinc oxide and titanium oxide, Minus-Sol Ivory Tint SPF which can tone down redness, PCA Skin's Hydrator Plus SPF made with hyaluronic acid for additional moisturizing or Weightless Protection SPF to protect skin from further environmental damage.
Proper skin analysis, maintenance and product choice is the key to keeping Rosacea under control. At Urban Retreat Spa, our Estheticians have been certified in the treatment of Rosacea Skin by the Florida Esthetics Association as well as studying at Beaulife International, South America's leader in skin care.  Trust the experts and learn about how professional skin care and products will make all the difference in having healthy beautiful skin.
Rosacea Facials Fort Lauderdale
Call or Text for appointments +1 954-249-9176
4450 NE 20th Ave
Fort Lauderdale, FL. 33308
https://facialsfortlauderdale.com/wp-content/uploads/2014/09/Rosaceainfo5-600x600.jpg
600
600
Urban Retreat Spa
https://facialsfortlauderdale.com/wp-content/uploads/2017/07/urban-retreat-logo-4c-FINAL-MODgwd-d.png
Urban Retreat Spa
2014-10-13 10:45:05
2014-10-13 10:45:05
Rosacea Facials Fort Lauderdale